If you are planning to change the exterior of your ranch style house, you have come to the right place. You will be very happy to know that adding small details can make your house look more beautiful than before. If you live in a ranch-style house, you should know how to update the exterior of a ranch style house. You can start from a simple change like painting your house or changing the color of the roof. You can add details on the exterior of your ranch-style house, which will make the outsiders feel more welcoming in your house.
Ranch houses usually have big windows and friendly outlets because they are quite an old style. That is why many prefer to buy a ranch style house nowadays. If you are planning to sell your house, you can make it attractive to the buyers by changing a few things. Also, if you want to renovate your house, I have a few good solutions for you as well. Below, there is a step by step guide that will help you to update the exterior of your ranch style house.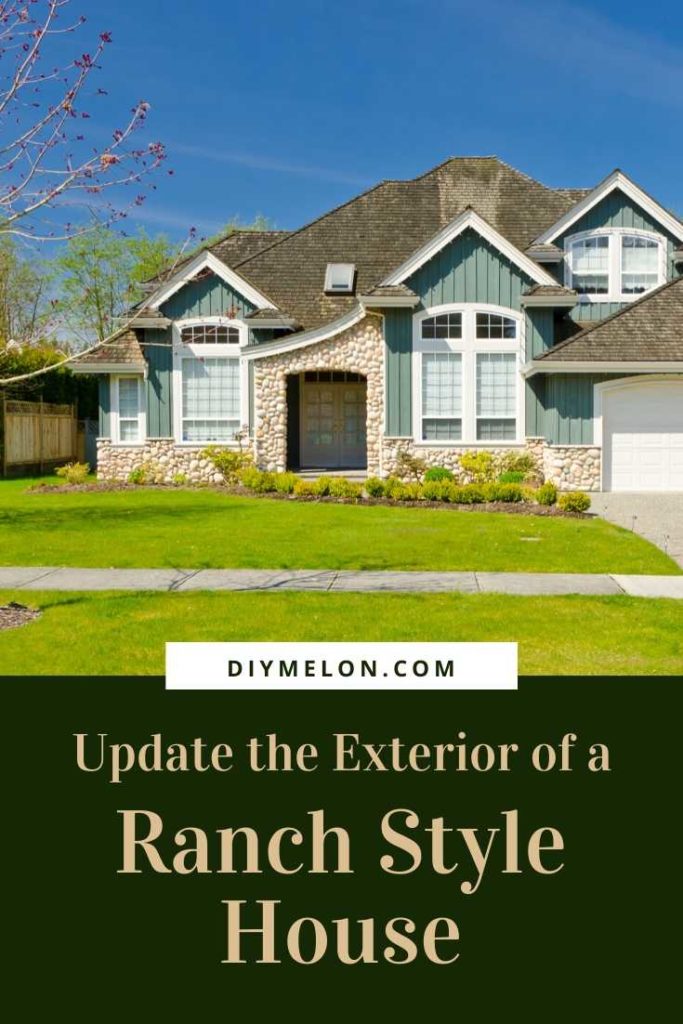 How to Update the Exterior of a Ranch Style House
Step 1: Build a patio with glass sliding door in the living space
If you talk about a genuine ranch style house from the 1950s, you will see that these houses have a patio in their yard. When you build a patio, it will add more sophistication to your ranch style house. Patios go well with ranch-style houses because the whole exterior provides a midcentury modern vibe to your house. If you are planning to build a patio, add a glass sliding door in the living area.
That is how the patio and the living area will look more connected. Glass sliding doors also provide enough light inside of your house and you will have a beautiful view as well. After you have installed a glass sliding door, you will see that the investment was worth it. it will cost you over a thousand bucks to make such change in your rant style house. At the end of the day, you will be happy with the outcome.
Step 2: Install larger windows in the house
If you want to make your house into a classic ranch style house, you must have large windows. Before the 1950s, people used to make large windows for their ranch-style houses. But a few years later, it was proven that large windows require more energy. As a result, they started to make smaller windows. If you don't want to replace all of the windows of your house – which will be pretty expensive as well – you can always change a few ones.
Try to change the front side smaller windows into larger windows, that is how your house will look bigger than before and it will provide you a feeling of the mid-20th century. Nowadays, you can't find houses with bigger windows that easily. So, if you are planning to update the exterior of your house to sell it, the new large windows will increase property value.
Step 3: Change the front door and add details to it
You can also think about changing your front door. You will be surprised to see how a single door can change the exterior of your house. You can always sale the door and get a profit from a good investment. If your door has faded its color overtime or looks very old, it is time to change the front door.
After changing the front door, you can add a few details in it as well. Hang a bouquet of flowers in your front door. Or you can purchase a vintage door knocker that will go well with it. Also, add a lamp in front of your door which will look good in the night as well. Adding these little details can turn your old ranch style house into a beautiful one.
Step 4: Repaint the house
There is no alternative to painting a house, whether it is a ranch style house or a modern one. You can always update the exterior of your by painting it. As most of the ranch-style houses are made of bricks, you can paint the bricks with the classic color of bricks, or you can go with gray or white color.
Choose a color that goes well with the scenery surrounding your house. It will also be quite good for curb appeal. We will not suggest you go with any darker colors. If the house has become old, the bricks will look like they have a layer of dust on them.
When you paint the bricks, the house will look completely new. If you want to see the comparison soon, you can go with painting the house at first before changing other parts. Painting a house can be budget-friendly and it will make your house look rich as well.
Step 5: Plant some bushes in the open space
It is a classic idea of updating the exterior of a house. When you plant bushes, your house will look more welcoming and environmentally friendly. If you have children in your house, it is important for you to teach them about the necessity of planting. You can do this project along with your kids, which will serve you well and change the look of your ranch style house.
Step 6: Add a fence in your backyard
You can also add a fence in your backyard, which will also change the look of your ranch style house. If you are tight on budget, you can think of using the most popular ones -bamboo fencing or vinyl fencing. Bamboo fences can be made very easily. There is no need to make fences from metal or wood which will cost you a lot more. The fence made with bamboo or vinyl will compliment your ranch style house.
These are a few ways through which you can update the exterior of your ranch style house. You will see how small details can change the whole outlook of your house.