Are you looking for a way to transform your kitchen cabinets into a beautiful work of art? Chalk paint might be an option for you. Non-toxic and easy to clean, this paint is made from natural and organic materials.
Moreover, it comes in a wide range of beautiful colors that will perfectly complement your kitchen decor. But is chalk paint a good choice for kitchen cabinets? Here's what we found out.
Using chalk paint on kitchen cabinets
You can use chalk paint to paint kitchen cabinets. It is compatible with Melamine, Laminate, and Oak cabinets. It does not always need to be sealed properly due to its porous nature. The best chalk paints are Old White Butcher Block Chalk Paint and Oregon Coast Gray & Beige Decorative Chalk Paint.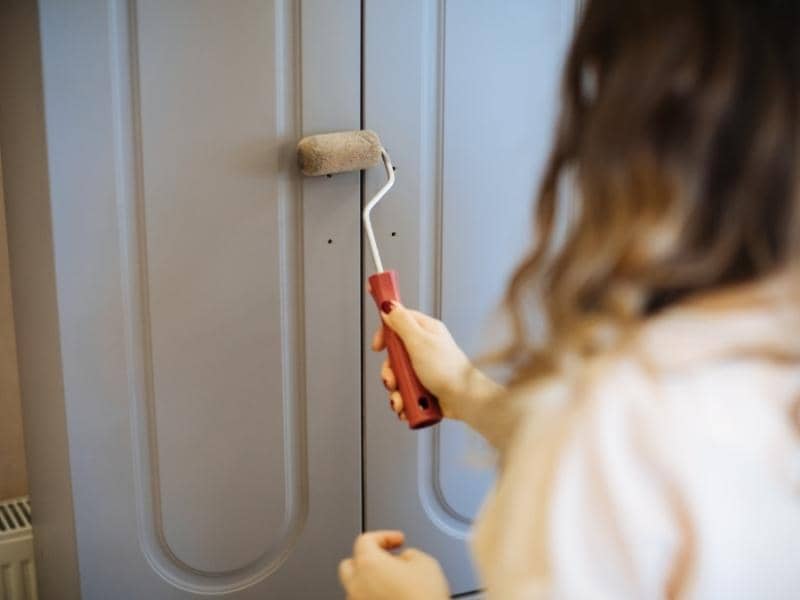 It is a great option for people who want a quick and easy way to customize their kitchens. As a newbie to the home-decorating business, it's an ideal choice because it's affordable.
The natural ingredients in chalk paint also make the paint environmentally friendly. A feature that is especially useful for families with kids or pets. The following are some kitchen cabinet types and their suitability for chalk paint.
Melamine kitchen cabinets:
Kitchen cabinets made from melamine can be painted with chalk paint. Due to its plastic-like material, this type of cabinet won't react negatively with paint.
It is advisable, however, to test a small section first to make sure the color will complement your kitchen.
Laminate kitchen cabinets:
Laminate kitchen cabinets can also be painted with chalk paint. It may, however, face some damage over time since the material isn't as durable as melamine or wood. Therefore, use caution when painting a laminate surface with chalk paint.
It will still be a great option for people who want a quick and easy way to customize their kitchen. You can give your kitchen a unique look with chalk paint if you're looking for an affordable, easy-to-use option.
Oak kitchen cabinets:
Oak kitchen cabinets can be painted with chalk paint. However, chalk paint may not work well on this type of wood because it is naturally heavy and dense.
Use a medium coat if you decide to go ahead with the application to prevent the color from becoming too thick or overwhelming. For someone who wants to chalk paint their kitchen cabinets, oak is a great choice.
Can you leave chalk paint unsealed on kitchen cabinets?
On kitchen cabinets, it is okay to leave the chalk paint unsealed. Chalk paint is a type of acrylic paint that contains natural minerals, such as calcium and magnesium, and lime ingredients.
It can be applied to a large variety of surfaces without causing any damage to them when used correctly.
If you ever notice any signs of wear or tear, such as chalking or peeling, then you should contact the manufacturer. Water and a cloth are all that are needed to remove chalk paint, which is a type of tempera paint that dries quickly.
In addition to allowing the paint to dry faster, leaving the cabinets unsealed reduces the likelihood of peeling or flaking. As a result of these tiny particles, the paint can pick up a lot of dirt and dust, which can cause a mess when the paint is unsealed.
Paints like chalk are water-reactive, meaning that they can react with water. A seal is created by leaving chalk paint unsealed so that it can react with water. By doing this, you will be able to protect your paint from fading and staining.
How to use chalk paint on kitchen cabinets?
To give your kitchen cabinets a little extra flair, chalk paint may be a perfect choice. Adding chalk paint to your kitchen décor is an affordable and easy way to upgrade your décor. The best way to use chalk paint on kitchen cabinets is as follows.
Safety first:
Whenever you work with chalk paint, make sure you take the proper safety precautions. You mustn't inhale the vapors, wear gloves and goggles when painting outdoors, and avoid applying too much pressure to the paint when applying it.
Priming the surface:
To begin with, you are going to want to prime the surface that you are going to paint with chalk paint before you begin painting it.
By doing this, you will be able to ensure that the paint will be applied smoothly and evenly. You can use any type of primer, but some people recommend using an oil-based primer because it helps reduce the chance of chalking.
Paint preparation:
Having primed your kitchen cabinet, all you need to do is apply your desired color of chalk paint. It is best to allow the surface to dry completely before painting to prevent rubbing or bubbling.
To clean up any areas that have been missed by the paintbrush, you can use a tack cloth to clean them up if necessary.
Use paint:
Use light and even stroke when painting with chalk paint to ensure that you cover the whole surface evenly with the paint. Do not over-paint. If you do, your kitchen will end up looking like a doodle, so be careful not to over-paint it.
Final Touch:
You can use a sealing or wax product to add some extra flourish to your chalk paint job. Be sure to test the finish on an inconspicuous area first so that you know how much attention you will need to put into the final touches.
How do you seal chalk paint on kitchen cabinets?
Chalk paint is a type of paint that dries very quickly, so sealing it prevents the paint from peeling or chalking.
For this purpose, wax, polyurethane coatings, and silicone caulk are some of the most common methods. The following is how to chalk paint should be sealed on kitchen cabinets.
Apply a thin coat of wax to the surface:
As a first step, you should seal the paint with a thin coat of wax. This will protect the paint from fading or peeling by creating an additional barrier between it and moisture.
Buff it off completely:
Following the application of the wax, it must be completely buffed out after it has been applied. You now have the opportunity to clean any remaining wax from the paint, allowing it to be ready for your final steps.
Apply polyurethane coatings:
A polyurethane coating is a great option if you want to add a layer of protection to your wood.
It is important to remember that these types of treatments are specially formulated to resist moisture as well as UV rays, so they are effective in extending the life of your painted surfaces.
Apply a second coat of wax:
It is recommended to apply a second layer of wax once your initial coat of wax has been applied, to enhance the sealing properties of the wax. You should take care of this especially if you have cabinets in your kitchen that are prone to water damage.
Let dry completely:
As soon as both coats of wax have been applied and dried completely, you are done with the waxing process! The coating should be allowed to cure before being applied to ensure that it will be effective when applied to the surface.
What is the best chalk paint to use on kitchen cabinets?
It can be difficult to decide which chalk paint is best for your needs since there are many different types. A durable base coat that protects the wood from moisture and staining is essential when painting cabinets with chalk paint.
The following chalk paints are good options when choosing an appropriate chalk paint:
Old White Butcher Block Chalk Paint, Oregon Coast Gray & Beige Decorative Chalk Paint (Cream), Pacific Northwest Tancedeck Blue Grass & Sage Stone Eggshell Matte Chalk Paint.
There are also stencils that you can use, such as YMod Podge Semi-Gloss Clear Satin Charcoal Graffiti, Painter's Tape Stripe, and Rustoleum Deluxe Heavy Gauge High-Performance Raglan Grey Metallic Low VOC Acrylic Latex Home painter's tape.
Make sure to test each type of paint on a small area before applying it to the entire cabinet surface once you have chosen your preferred product.
Final Thoughts
You can use chalk paint on your kitchen cabinets. However, this type of paint should not be used for an extended period. After applying it, be sure to take proper care of the cabinets. Chalk paint may leave kitchen cabinets unsealed. However, a secondary sealant is the best option.