Acrylic powders have been getting more popular in recent years, especially in the beauty industry. It is quite tricky to work with and thus it is important to know if water or acetone helps to set the acrylic powder without any kind of damage.
Can you use acetone or water to apply acrylic powder?
You cannot use acetone to apply acrylic powder because it will end up dissolving the acrylic fully and ruining your work. Water on the other hand can be used to cure acrylic powder as long as you are doing it under the right circumstance and in the proper way to avoid any damage.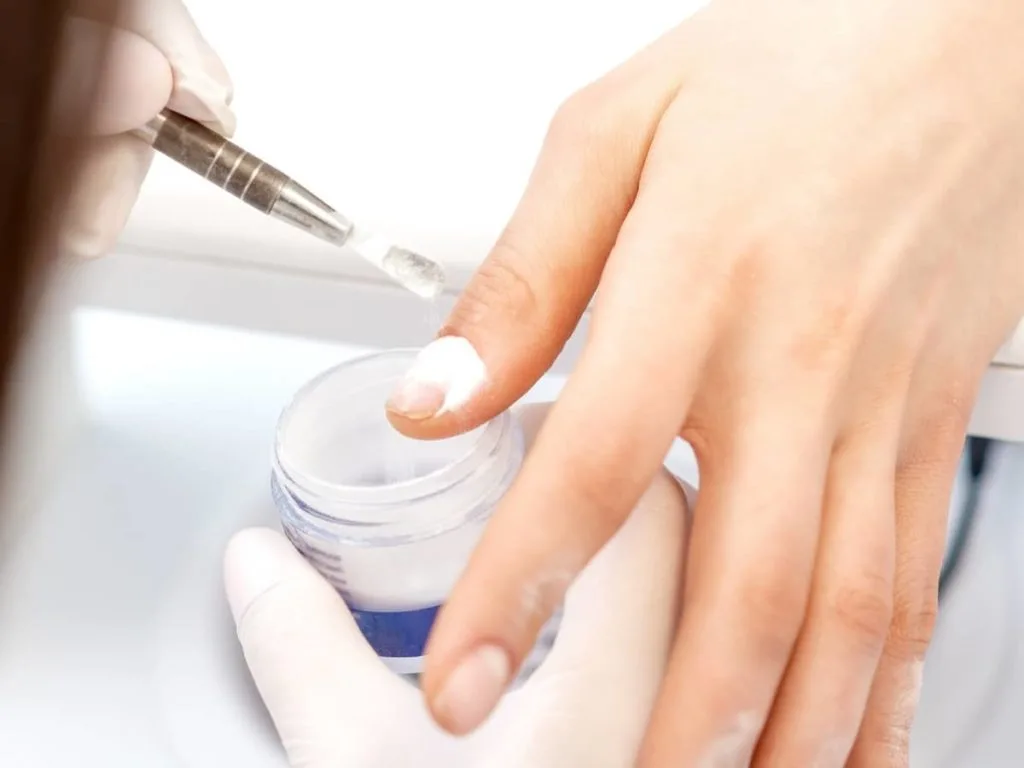 The monomer liquid itself reacts with the acrylic powder to give you beautiful designs and combinations. If you use acetone on it to help cure the acrylic, it will not work because the acetone will end up dissolving the acrylic powder.
You should also not also use water for regular acrylic powders because it will not help to cure the acrylic. However, as acrylic got more popular, different types of acrylic powders can be found in the market.
Similarly, there are acrylic powders available now that are specifically made for curing with warm water and making your job easier.
Does acetone work with acrylic powder?
Acetone does not work with acrylic nails at all. For acrylic nails to set, liquid monomers are used to bind the powder to the nails and help cure them. If you use an improper monomer in place of acetone, then it will not work properly.
Acetone is one of the products that you should avoid when you are working with acrylic because the only time acetone comes in handy is when you are using it to remove the acrylic powder from your nails.
What happens if you use acetone with acrylic powder?
Instead of binding the acrylic powder to your nails to create a beautiful design, acetone ends up breaking down the acrylic powder instead. Therefore, when you are using acetone with acrylic powder it will start to dissolve and melt the acrylic powder instead of curing and setting it.
This is why it is always advised to do your proper research before using any other liquid monomer or even acetone because it can end up ruining your design instead of setting and hardening it.
How to use acrylic powder without acrylic liquid?
There are certain steps that you must follow when using acrylic powder using gel polish and without acrylic liquid to avoid damaging your nails and the design.
Clean your nails:
Remove any old polish off your nails and shape or file your nails if it's necessary. Use a cuticle pusher to push your cuticles back to prevent the acrylic from lifting. After that, remove the extra cuticle skin and clean the side walls by removing dried skin.
Prep your nails:
Apply a light layer of acetone on your nails to remove all the dust and clean your nails and skin. You can apply some cuticle oil as well to hydrate your skin and keep your nails healthy. Once it has dried down, apply two coats of primer on your nails.
Apply the acrylic:
Apply a layer of base coat on your nail first. Then dip your finger with the base coat inside the acrylic powder immediately. Shake off any excess powder stuck to your nails. Put your nail inside the LED lamp and flash cure it for ten seconds.
Repeat with all the other nails. You can use a brush to wipe off the acrylic from your skin.
Set the polish in:
Use a nail file to buff out your nails thoroughly. Lightly apply some alcohol and clean out the dust. Then apply another layer of base coat on your nails to prevent lifting and cracking of the acrylic powder. Cure it in the lamp again for a minute.
Use alcohol to wipe out the inhibition layer and then you are free to paint and design your nails however you would like.
What can you use as a substitute for acrylic liquid?
If it is not possible for you to use the suggested liquid monomer then you can try out other substitutes to cure your acrylic powder.
Gel polish:
Gel polish is a very affordable and quick way that you can use to cure your acrylic. You will only need a LED lamp and you can use that and your polish to cure your acrylics perfectly inside the LED lamp.
Polyester resin:
You can use a polyester resin which is a polymer with peroxide added to it. Not only does it cure well, but it also cures very easily at room temperature. However, it does leave a green hue behind which many people are not fond of.
DIY monomer:
If nothing seems to work out, you can always DIY your acrylic liquid at home. Choose an empty nail polish bottle and add one-fourth tsp of water and three-fourth tsp of Elmer's liquid glue. Any non-toxic glue will work.
This is a very easy way to bind and cure your acrylic powder.
Can you use water with acrylic powder?
Water cannot be used with acrylic powder because it does not have the properties of normal acrylic liquid to bind it to the polymer. However, water-cured acrylics are available in the market nowadays which can specifically be used alongside warm water to sculpt it into a nail.
Water-cured acrylics are similar to your regular acrylics. For regular acrylics, you are required to use a binding agent like acrylic liquid or monomer. These monomers have the properties that are needed to bind the acrylic powder as well as cure it.
However, for water-cured acrylics, you can use water instead and that is its specialty. Warm water is required to set and cure your acrylic nails perfectly into place.
What happens if you use water with acrylic powder?
If you are using water with water-curing acrylic powder then the water will help the acrylic powder to harden. It starts to cure as soon as you dip your nails into the warm water. The warmer the water, the quicker the acrylic powder will harden.
It does not have any odor and takes time to cure which means there is enough time to fix the acrylics on your nail according to your taste.
What liquid is used to apply acrylic powder?
Generally, monomer liquids are used to apply acrylic powder. They have certain properties that come into play when in contact with acrylic powder.
When they come into contact with the chemicals present in the acrylic powder, they react with it and start to act as a strong binding agent that helps cure and set the acrylic powder in place.
How to use acrylic powder with water?
There are simple steps you must follow when using acrylic powder with water.
Prep your nails:
Ensure to have water-curing acrylic powder with you. Prep your nails by pushing back and trimming the cuticles and buffing them out. Apply a light layer of acetone to clean out your nails.
Apply the acrylic powder:
Apply two coats of primer on your nails to prep them and then dip them inside the acrylic powder. Shape it however you would like and wipe off the excess acrylic powder from your skin.
Dip it inside warm water:
Remember, the warmer the water the quicker it will cure. If you need time to fix your acrylic to taste then keep the water a little warm. Dip your nails inside the water and give them three minutes to cure properly.
Apply a layer of base coat afterward to keep your acrylic intact.
Can you make your own acrylic liquid?
You can make your own acrylic liquid at home in a few easy steps. You can do so using water and non-toxic glue. In a nail polish jar that is empty, add a fourth of a teaspoon of water and a third by a fourth teaspoon of any non-toxic glue you have available.
This can easily be a great binding agent to cure your acrylics and it is also affordable and simple to make at home.
Can I make my own acrylic powder?
It is best to not DIY polymers such as acrylic powders at home because if mixed with the wrong monomer, not only can it badly damage your nails but it can also cause bad allergic reactions.
However, some people do use cornstarch as a DIY acrylic powder and it seems to work just as well as acrylic powder would.
Final thoughts:
Acetone should only be used to take off your acrylic nails because it is a great dissolving agent. Water can be great at curing specific acrylic powders and it gives you enough time to shape your acrylic properly as well. It is also less harsh for your nails and your skin in general.